Wednesday, June 12th, 2002
Took my time getting started and probably left Portland around 10am. Dez lent me some audio books (Thanks Dez) and I leisurely drove to Seattle arriving at about 3pm. Had the top down most of the way, but had to put it up about an hour outside of Seattle because I was starting to get sunburned. Its 90 degrees in Seattle today!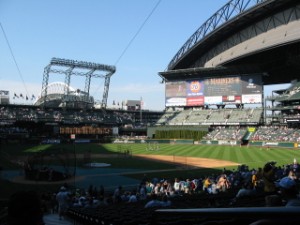 Safeco Field
Caught a shuttle from the hotel to the ballpark and arrived about 5:30 pm. Took a tour of the park and then got close to home to watch batting practice. Look who's standing behind home plate shooting the breeze. It's Lou Pinella and Tony LaRussa.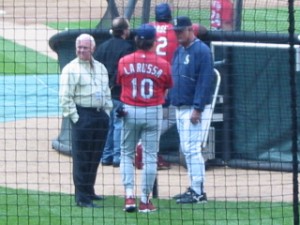 Pinella & La Russa
Two great managers and players from when I was a kid. I especially remember Pinella from the World Series between the Yankees and the Dodgers. He was a good hitter. Unfortunately.
Next, I sample the local cuisine of Ivars fish and chips. Not much drama in this game. The M's took an early lead over the Cardinals with a 3 run homer early in the game. Eventually the score ended 5-0 Mariners. One of the Mariner's players is the fan favorite Ichiro Suzuki. He's exciting to watch because you know he can make something happen.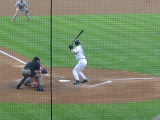 Ichiro at Bat
Now the trip gets a little more interesting. Its time for the PCH leg of the trip. I have no idea what I'll find or how long it'll take.