Saturday, August 3rd
From Albuquerque, I decided to go half way to Austin, and stay the night with a recent friend of the family and her family. I had just met her when I had been up to Montana this summer and she had offered to let me stay with her and her family when I went to Texas. In the directions she gave me to get to her house she mentioned that there was a steel house that I couldn't miss. She was right. However, she didn't mention that it was their house that her husband had been building for 27 years!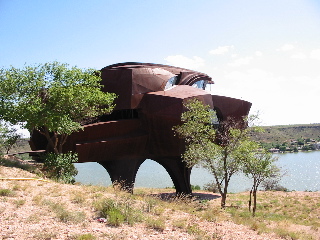 The Steel House
It is probably the most interesting house I have ever seen. From some angles it looks like a spaceship. From the outside it looks like the villian's submersible fortess in the Spy Who Loved Me. Inside, it has flowing stairs, curved walls and big windows. A very cool house.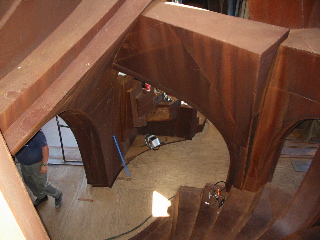 Inside
For dinner we went to an Italian restaurant, very similar to Macaroni Grill. After dinner, we saw a video. It was The Sheltering Sky with John Malkovich and Debra Winger. By the time that was over, it was 2 in the morning. And then we went for a walk!
I had planned to leave right away in the morning, but I was having a lot of fun and Patricia was pretty persuasive. Once I woke up, we went for another walk. I ended leaving for Austin about 11 am. All in all it was a lot of fun and Patricia and her husband, Robert are an interesting couple and easy to get along with. Patrica is very outgoing and Robert and I seem to have a similiar philosophy about life and our respective crafts (he's an architect).