Wednesday, August 13th, 2002
I met my friend Marc at his house and we headed off to the game. This game is kind of a milestone in my quest to visit every major league ball park. It will be my 20th team. Just ten more to go (barring expansion or contraction).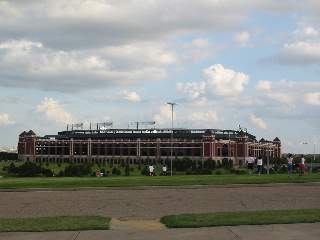 The Ballpark at Arlington
The Ranger's stadium has the rather ordinary name of The Ballpark At Arlington. Arlington is a town just outside of Dallas/Ft. Worth. We parked in the parking lot and walked to the stadium. From the parking lot is a great view of this brand new stadium. It is another of the trend to create a new stadium with all the modern conveniences, but with that classic, traditional baseball feeling.
The stadium was pretty nice. We walked the grounds. One of the most interesting attractions to me was the Nolan Ryan statue in stands behind center field. Nolan Ryan is one of the greatest pitchers in baseball history and his stats engraved in a circle around the statue drove home the point. He is the all-time leader in strikeouts, no-hitters ( 7! ) and a couple of other stats. Opposing players would take the day off so they wouldn't have to face him at the plate. He also holds the record for the fastest pitch ever at 104 MPH.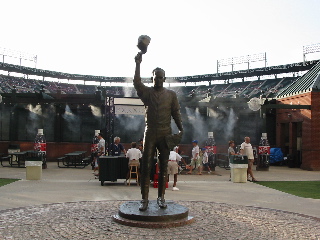 Nolan Ryan
The game wasn't particularly interesting. The Rangers were getting blown out by the Chicago White Sox. Marc and I had a good time reminiscing about our high school days and I enjoyed some catfish and chips for dinner. All in all a good time, but I was very much looking forward to heading home the next day.