I always like to see the Dodger'a AAA team when they come to Salt Lake. Last year, that team, moved from Albuquerque to Las Vegas and became the Las Vegas 51's (51 being a reference to Area 51). After my trip I checked the Salt Lake Stingers' schedule and saw that the 51's were in town. I further noticed that Thursday night was Steve Garvey night!
Steve Garvey was my favorite player when I was a kid. At first it didn't seem like much of a big deal. I thought I go down and get his autograph and it would be no big thing. But, as the game got closer I got a little more excited. I went to Gart's Sporting Goods and bought an official major league baseball in a little display case.
Once at the game, I had to wait in line with everybody else wanting Garvey's autograph. I brought my digital camera and the guy behind me wanted me to take a picture of him. I said yes, just as long as he would take mine. His wife ended up taking all the pictures.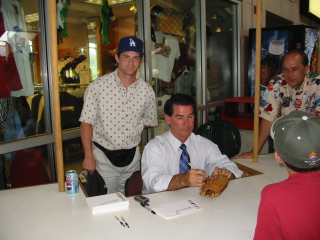 Behind Garvey
As I neared the front of the line, I got behind Garvey to get my picture taken. Just watching him sign autographs brought a big smile to my face. The Dodgers of Steve Garvey, Davey Lopes, Bill Russel, Ron Cey, and Steve Yeager are my all-time favorite sports team. The infield was together longer than any other. 8 years. Now days you're lucky if a team is together for 2. The experience brought out the kid in me and I didn't even have to leave my own town.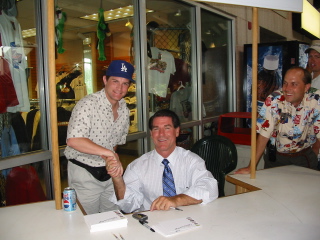 Shaking Hands