August 8th - August 14th, 2002
Thurday morning I drove up to Dallas. It took about 4 hours and I checked into another extended stay motel. Originally, I had planned to stay in Dallas for a week, just like in Austin, but my Austin experience changed my plans. I was going to leave on the 14th, after the baseball game.
Again, the idea was the same. To just be there and experience Dallas. However, there were a few things I wanted to do. There's an Apple Store in Plano, a town just north of Dallas. Apple has been opening stores all over the country, but none yet in Utah, so I had to go check it out. Also, I wanted to check out downtown and see some JFK stuff, and of course the Texas Rangers are in nearby Arlington.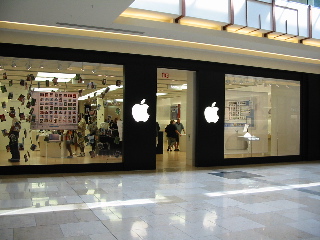 The Apple Store
Also, I have an old high school friend who now lives in Dallas. Marc moved to Georgia after he graduated from college and then to Dallas, where he works for Texas Instruments. I got in touch with him and had lunch with him on Friday. It didn't take long for us to get back in the swing. It didn't feel like we had been apart much at all. He took me to see TI's digital projector demos where we watched the Star Wars: Episode II trailer on a big movie size HDTV screen with a digital projector. He invited me to his place on Sunday for dinner, where I met his family and ate a delicious meal. Marc and his wife, Christy, have 4 kids. 3 girls and 1 boy. The oldest is 9, so they have their hands full. It was nice to see everybody and to see how things are going.